The campsite is flanked by two rivers: La Ligne and La Lande, which you can access directly from the campsite.
La Lande flows into La Ligne, which then follows its course to Chauzon, where it meets the Ardèche.
Both have low flow rates rivers and La Lande is fed by a source halfway between the village of Uzer and the campsite.
The Line crosses Largentière, and arrives here along a succession of flat stones.
These two rivers (which are shallow) are separated from the pitches by an area free of campers , dubbed « the promenade ».
Therefore, there's no direct danger for children.
There are plenty of access points to the rivers, for paddling, rafting, setting up dams or cooling off.
At nightfall, you can watch the beavers making their dams just past the confluence of the two rivers.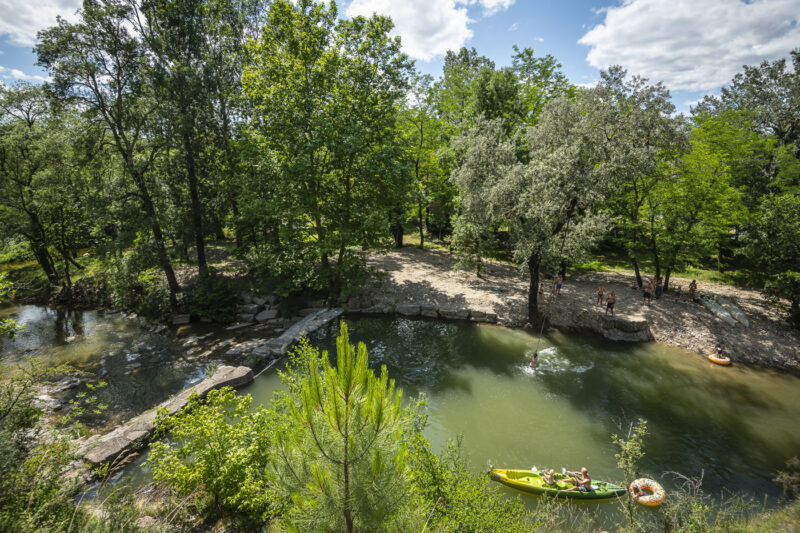 The water basin
In July and August, we build a dam just upstream of the confluence of La Lande and La Ligne, depending on weather conditions and flows).
This creates a body of still water with a maximum depth of 1.70 m: a perfect playground for those who love swimming in the river, with activities such as canoeing lessons (available to all), inflatable boats and even rope jumps for those who dare…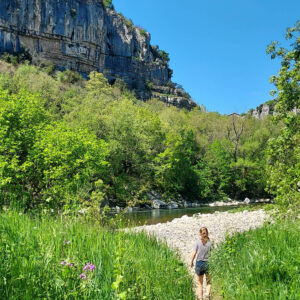 River swimming
One of the greatest joys of a holiday in the Ardèche is the tranquillity of the rivers and the pleasure of bathing in their clear waters.
We'll give you the best tips on activities you can do on the nearby rivers (the Ardèche, the Beaume, the Chassezac) with breathtaking views on amazing sites: Balazuc, Beaume gorges, Ibie, Défilés de Ruoms (road hewn in the cliff-faces), Pont du Diable (Devil's bridge), Cirque de Gens…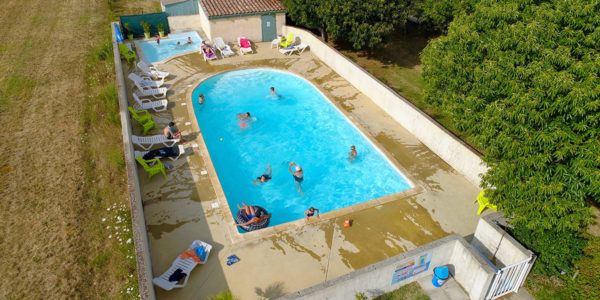 The campsite has a swimming pool and a paddling pool, ideal for cooling off and playing with friends.
The swimming pool is naturally heated by the sun, and is bordered by chestnut trees.
Open from 10:00am to 7:00pm
Access for campers only (no visitors allowed)
13 x 7 m pool, gradually sloping down to a depth 1.50 paddling pool
Beach area with sun loungers, in the shade of chestnut trees
For reasons of hygiene, only swim briefs are allowed (neither swimming shorts nor shorts)
For everyone's safety, children must be supervised by an adult.